Popular Choices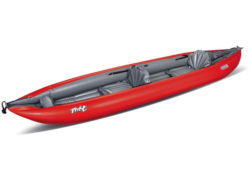 The Gumotex Twist 2 is compact & lightweight whilst being as simple to use as possible. A great all round inflatable kayak that weighs only 13kg. The latest model sees the addition of centre seat attachments allowing for solo & tandem use.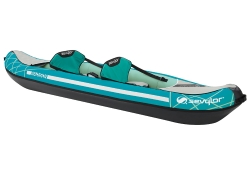 The Sevylor Madison is the successor to the Colorado. It combines an extraordinary mix of manoeuvrability, stability and comfort. Can be configured as a solo or tandem. Package deal also available.
Nitrilon Material - Tandem & 2+1 Inflatable Kayaks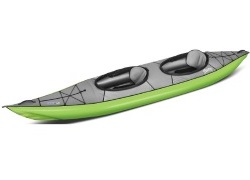 A lightweight double touring kayak from the performance inflatable manufacturer Gumotex. The Swing 2 is ideal for longer journeys and weekend camping expeditions yet can fold down into a large rucksack!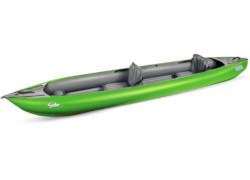 The latest Gumotex Solar can be configured to paddle as a solo, tandem or even 3 person inflatable with the optional third seat. Like most of the Gumotex range the Solar is constructed from durable & quick drying Nitrilon.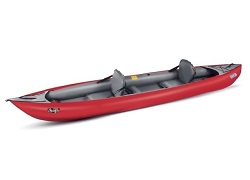 Using the latest drop-stitch technology and durable Nitrilon material, the Thaya offers a high pressure hull design for excellent performance and comfort. Great for two paddlers, but can be paddled solo. Can also be fitted with an optional 3rd seat.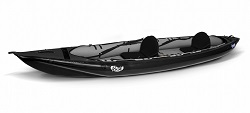 A drop-stitch floor and nitrilon construction combined with a sharp bow design makes the Rush 2 an excellent performer for coastal paddling and great for touring. Seats can be set up for tandem or solo paddling.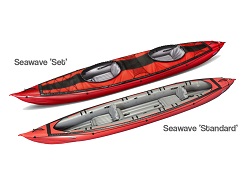 The Seawave is a hugely versatile and high performing sea & touring kayak capable of long distances & expeditions. Available as a standard spec or as a 'set' with closed cockpit deck for 2 paddlers, a pair of zipped spraydecks, as well as optional rudder and 3rd seat. Cockpit kit available for solo paddling also sold separately.
PVC Bladder - Tandem & 2+1 Inflatable Kayaks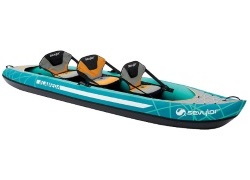 Ideal for cruising on inland waterways or sheltered coastlines. Designed to carry up to 2 adults & 1 child the Alameda offers performance, stability & comfort for all the family.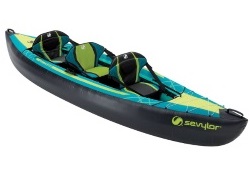 The Sevylor Ottawa combines a long sleek shape with increased carrying capacity to produce a top of the range inflatable capable of handling wherever your adventures might take you.