You are here >> Accessories & Equipment
Accessories & Equipment
Inflatable Kayaks & Brighton Canoes are pleased to offer an extensive range of accessories and equipment for inflatable kayaks, canoes, dinghies and SUP boards. We have selected the following accessories as extremely useful for use with inflatables. Howevert, this is just a small selection of the full range we offer so if you are looking for something not listed below please get in touch. Call us on 01273 513200 or email sales@inflatable-kayaks.co.uk.
5 Litre Foot Pump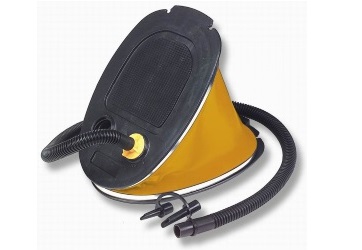 The Bravo 5 Litre Foot Pump is ideal for use with inflatable kayaks, canoes & dinghies as well as other inflatable products. This compact & lightweight foot pump features the option to inflate or deflate. It also comes complete with universal nozzles, meaning it should fit any valve. Inflates 5 Litres in volume per pump up to a maximum pressure of 4.3 psi.
Price
£9.99 (RRP £12.99 - Saving £3.00)
Bravo Hand Pump - Dual Action 2x2L
The Bravo Double Action Stirrup Hand Pump is an extremely efficient air pump that inflates on both the up stroke & down stroke of the handle. Each stroke can produce a huge 2000 cc of air with a maximum inflation pressure of 7.2 psi. Supplied complete with a set of adapters compatible with all models of Sevylor canoes, kayaks and dinghies. Features the option to inflate or deflate.
Price
£16.99 (RRP £19.99 - Saving £3.00)
Electric 12v Air Pump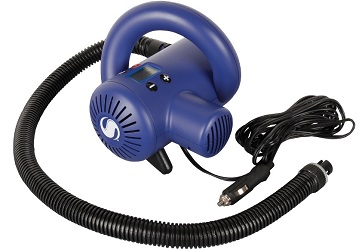 The Sevylor 12V Electric pump is a compressor type pump that features a pressure unit selection, PSI, Bar and Kpa. This compressor type 12V pump offer great flexibility with universal valve fitting options. The automatic disabling features is also a handy device as once it has reached it's preselected pressure it automatically switches off.
Price
£54.99 (RRP £79.99 - Saving £25.00)
Sevylor QuickPack Carry bag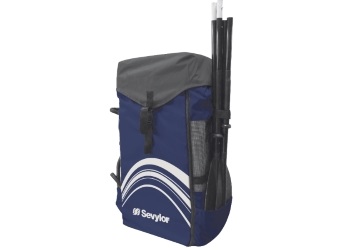 The Sevylor QuickPak backpack makes transportation and storage easy. It has a wide opening making it easy to get the deflated inflatable inside as well as side pockets for storing paddles & pump. It fits all Sevylor inflatable kayaks & canoes. The backpack features padded & adjustable shoulder straps. Size: 90 x 44 x 33cm.
Price
£25.50 (RRP £30.00 - Saving £4.50)
Aquapac Dry Cases
Aquapac offer a range of different size dry cases that come with a 100% waterproof guarantee. Ideal for items such as electronic keys & phones. The Aquapac Dry Cases are designed so devices such as phones & touch screens can be used inside the case.
| | | |
| --- | --- | --- |
| Case Size | Max Length | Max Circumference |
| Mini | 125mm | 155mm |
| Small | 150mm | 200mm |
| Medium | 200mm | 265mm |
| Large | 295mm | 440mm |
FF Dry Storage Bags
Feelfree dry bags are perfect for keeping your gear safe and dry while you are out paddling. We stock three sizes for different requirements. The 5L bag is perfect for wallet, phone & keys whereas the 15L and 30L versions are ideal for lunches & dry clothes. Constructed from strong lightweight PVC material with a fold down and clip flap for ease of use.
| | | | |
| --- | --- | --- | --- |
| Volume | Dimensions | Should Strap | Handle |
| 5L | 20x25cm | Yes | No |
| 15L | 25x40cm | Yes | No |
| 30L | 30x45cm | Yes | Yes |
Sevylor Standard Manometer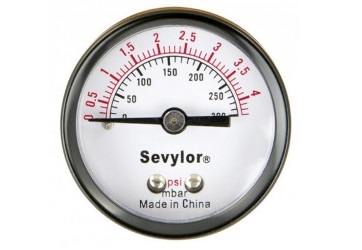 Ensure your inflatable kayak or canoe is inflated correctly with this Sevylor Manometer Pressure Gauge. This gauge is inserted into the valve after inflating to check the pressure is correct. Enables checking the pressure up to 10psi.
Price
£10.16 (RRP £11.95 - Saving £1.79)
Sevylor Easy Inflation Manometer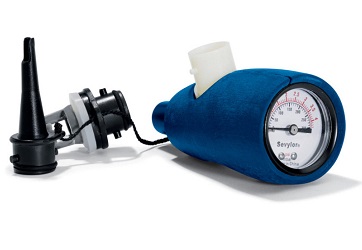 Sevylors easy inflation manometer is designed to connect inline as you pump up your inflatable so you can check the pressure as you go. Connects to Sevylor or Bravo Stirrup Hand Pumps with bayonet connection. Works up to 10 psi.
Price
£25.00 (RRP £30.00 - Saving £5.00)
Sevylor Removable Skeg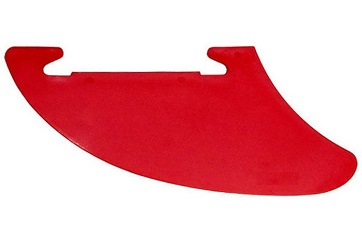 Spare or replacement Sevylor removeable skeg/fin for Sevylor Rio, Canyon, Adventure, Adventure Plus, Yukon, Colorado, Hudson & Premium Models.
Sevylor Boston Valves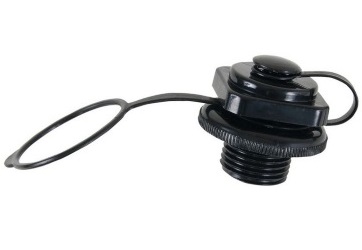 Spare or replacement screw-in boston valve suitable for all Sevylor inflatables. Available in 2 sizes Standard Boston Valve or Mini Boston Valve used of some model floor bladders.
Stormsure Repair Glue - 3x5g
Stormsure Flexible Repair Glue. Tough, waterproof, very strong, abrasion resistant and very long lasting. Stormsure Flexible Repair Adhesive will help you repair almost anything. It cures slowly allowing repositioning but is flexible when cured. It will stick to virtually any material and can form a thick film, making a patchless repair if required.
Price
£5.91 (RRP £6.95 - Saving £1.04)
Stormsure Canoe Repair Kit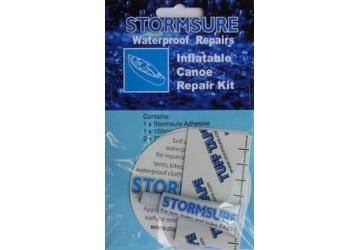 A repair kit for use on rips &split seams in inflatable canoes. The Stormsure adhesive & TUFF patches can fix many typical problems on PVC fabric quickly & easily. Punctured inflatable tubes can be repaired in a few seconds & pumped up again for use immediately. Areas which suffer form high levels of abrasion can be reinforced very effectively.
Price
£5.91 (RRP £6.95 - Saving £1.04)