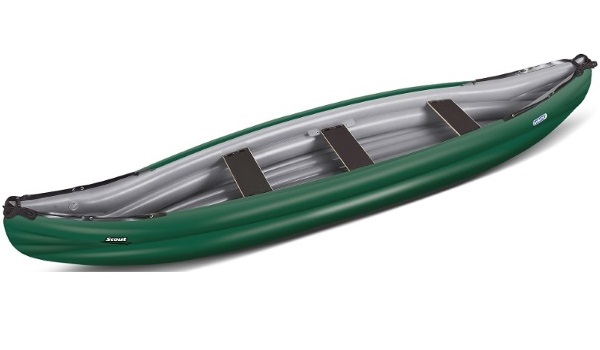 Gumotex Scout standard & Economy
At 445cm in length the Gumotex Scout provides the space of a rigid open canoe with 3 seats & a 450kg weight capacity. However, unlike most open canoes its packs down to only 70 x 45 x 30cm & can be popped in the boot of the car. Available in 2 specifications - Standard or Economy.
Gumotex Scout Economy
£799.00 (RRP £999.00 - Saving £200.00)
Gumotex Scout Standard
£1,019.15 (RRP £1,199.00 - Saving £179.85)
Full Details
Features / Spec
Colours
Recommended Accessories
Delivery
Gumotex Scout Inflatable Canoe
The Gumotex Scout is a full sized open canoe at almost 15ft long and has a carrying capacity of over 450kg. This means it can seat a whole family of 2 adults and 2 smaller children plus their gear. Here you have a full sized family craft that will fit in the boot of a Ford Fiesta!

The Scout has been designed to be stable and confidence inspiring allowing anyone to just step in and paddle off. The construction is of tough Nitrilon with wooden slate seats – this boat is built to last. Simply unroll the canoe, fix in the three seats and with a few minutes pumping you are good to go. The Scout comes with grab handles fore and aft as well as painters already fitted and a pressure relief valve in the floor to protect against over inflation. 

Ideal for lakes, rivers, canals or even white water up to grade 3, the Scout is easy to portage around locks and over obstacles. Once you are finished on the water, the single layer Nitrilon fabric dries quickly and with push push valves the Scout deflates quickly and is easily rolled back up and packed away ready for another adventure. The super compact size when packed away is just 70 x 45 x 30cm, which is amazing when you consider its size inflated.
Standard & Economy Specifications
Both the Economy & Standard versions of the Scout are constructed from same heavy duty Nitrilon material and have identicial proportions with 3 wooden slate seats, front & rear carry handles and painter lines.
The Scout standard benefits from the follwing additional features that are not included in the ecomony model:
T-bone supports that fit underneath seats to reinforce the hull and help retain shape.
Self bailing floor for drainage in rough/white water. This has a rolling closure to stop water ingress when paddling on placid water.
Front and rear seat thigh straps for greater security and control in rough water.
Foam pads on seats for increased comfort on longer journeys.
Additional clip in points for securing gear.
Quick nut/bolt fixings for securing seats replacing the cord used on the economy model.
Heavy duty transport bag.
In summary the Scout Economy will likely suit the needs of most recretional and family paddlers that plan on using the Scout on placid or gentle moving water. Those planning on more adventurous pursuits in rougher white water will likely benefit from the additional features of the Scout Standard.
Features- Economy & Standard
3 x wooden slate seats
Grab handles for easy handling
Safety ropes on the bow and stern
Binding rope in the bow and stern
Push-push valves
Safety relief valve in the bottom of the boat
Repair kit
Features- Standard Only
Foam padding on seats
T-Bone Seat/Hull Reinforcements
Self draining floor with rolling closure
Front & rear seat thigh straps
Additional clips points for securing gear
Quick nut & bolt fixings for seats
Heavy duty transport bag (no rucksack straps)
Specification
Length: 445cm
Width: 95cm
Weight: 25kg
Capacity: 450kg
Pack Size: 70 × 45 × 30cm
Material: Nitrilon®
Recommended Accessories
Bravo Combi Paddle - 1 x Kayak or 2 x Canoe Paddle
When paddling solo use it as a double blade kayak paddle. When paddling tandem take the paddle apart, add on the handles & you have 2 canoe paddles. A versatile paddle that gives you the best of both worlds.
Carlisle Beavertail Wooden Canoe Paddle - 60"
A versatile all round paddle. The Blade constructed from 7ply laminated cherry, basswood & walnut with urethane tip. Shaft 3ply lash & basswood. Click Here for different length options.
Hand Stirrup Pump - Dual Action
The Dual Action Hand Stirrup Pump is a very efficient hand pump ideal for inflating inflatable kayaks. This is dual action pump meaning it inflates on the up and down stroke. Dimensions: 45 x 23 x 11 cm.
12v Electric Inflatable Pump
This 12V Electric pump is a compressor type pump that features a pressure unit selection, PSI, Bar & Kpa. Its automatic stop feature means that when your inflatable has reached its preselected pressure it automatically switches off.
Gumotex Push-Push Valve Pressure Gauge
Gumotex pressure gauge used to measure the pressure of an inflated boat. Specific fit for the Gumotex push-push valves. Recommended pressures listed on boat by valve normally 0.2 or 0.25 bar.
Gumotex Transport Bag - 100ltr
A robust waterproof carry bag with rucksack straps to transport your inflatable off the water. You can also use the bag to carry and keep your gear dry on the water and protect it from getting wet.
Palm Quest PFD - Adult & Junior
The Palm Quest buoyancy aids is a functional, unrestrictive and comfortable entry level buoyancy aid. Easy to fuit thanks to it front entry zip and adjustable shoulders and side. Both adult and kid sizes available.
Delivery
We offer a delivery service for the Gumotex Scout Inflatable Canoe to home and work addresses throughout England, Wales, Scotland, Northern Ireland & Ireland.
Most Inflatable Canoes & Kayaks are supplied within 24-48 hours.
Collection - Click & Collect
Buy a Gumotex Scout Inflatable Canoe online from our website and collect from our store in Newhaven, East Sussex or from any branch within the Canoe Shops Group. There is no cost associated with this.
Our other stores are:
Brighton Canoes - Newhaven, BN9 0DH
Bournemouth Canoes - Poole, BH16 5BW
Cornwall Canoes - St Colub Road, TR9 6PZ
Kayaks & Paddles - Plymouth, PL21 9RL
Manchester Canoes - Warrington, WA1 4RF
Norfolk Canoes - Norwich, NR5 0JU
Southampton Canoes - Southampton, SO40 3SA
We will contact you to arrange collection upon receipt of you order.
If you need any further help or advice about the Gumotex Scout Inflatable Canoe please get in touch by email, phone or visit our shop