Sevylor Alameda
How can you follow the incredibly popular Hudson? Simple, keep the best bits and add in some new features to create the Sevylor Alameda. What made the Hudson so popular was its ability to seat two adults and one child whilst still remaining manageable to paddle by one or two. The Alameda retains this feature but enhances the comfort by adding lumbar supports and using the new Sevy-spension seating system. This suspends the seats off the floor of the kayak and thus helps maintain the hull shape as well as allowing for storage underneath. Seat can be removed and configured in different positions allowing for solo, tandem or 2+1 (2 adults + child) usage.
The Alameda is wide and stable to instil confidence in new paddlers whilst still being efficient enough to take on all day expeditions and incorporates the latest I beam floor for stiffness and a Sevy-Strong tarpaulin floor with beaching strake for peace of mind when coming ashore. Strong moulded handles are built in to each side which double up as paddle parks when moored.
The Alameda can be inflated quickly using either a hand or foot pump, however for the ultimate luxury Sevylor offers a 12v electric pump which can be connected to your vehicle.
When it is time to pack away the whole boat folds quickly into Sevylor Dry N Store carry bag. Deflation is easy using the tried and tested Boston Valves which allows air to escape in seconds. The Dry N Store carry bag features backpack straps to make it easy to carry around. The bag is also waterproof making sure vehicles are protected if the kayak is wet when packed away.
The Alameda is also available in an upgraded 'Premium' version that features Sevylor's Easy Inflation System. This system allows the 3 independent inner tubes to be inflated through a single valve interface. Click Here to view the Alameda Premium.
Features

Sevylor Paddle Grip is a mulit-functional carry handle and/or a paddle holder so you can relax hands free.

Sevy-Strong a heavy duty tarpaulin layer that reduces drag & wear as well as resisting water ingress.

A practical floor guide to help determine where the seats should be positoned for maximum comfort.

A new seat technology that suspends the seat above the floor reducing drag for more efficient paddling.

The Dry N Store carry bag features backpack straps for ease of transportation as well as being waterproof.
Specification
No. of Persons: 2 + 1
Length: 375cm
Width: 93cm
Weight: 19kg
Capacity: 210kg
Pack Size: TBC
Material: PVC Bladders with Canvas & Heavy-Duty Tarpaulin Outer Covering
Sevylor Inflatable Kayak Construction
The Sevylor Alameda is constructed from internal PVC Bladders with a combination of Polyester Canvas & Heavy-Duty 'Sevy-Strong' Tarpaulin Outer Covering. The Sevy-Strong heavy duty tarpaulin layer is found on the underhull, and runs up onto the side of some models for further protection. This tough and smooth material reduces drag, protects the bottom of the kayak from abrasion and damage as well as resisting water ingress. The PVC Bladders are easily removable and replaceable should you experience a puncture. Replacement bladders for the Sevylor Alameda can be found by clicking here.
See the image below for an example of a kayak construction using PVC Bladders with a heavy-duty Polyester and Sevy-Strong Tarpaulin outer covering.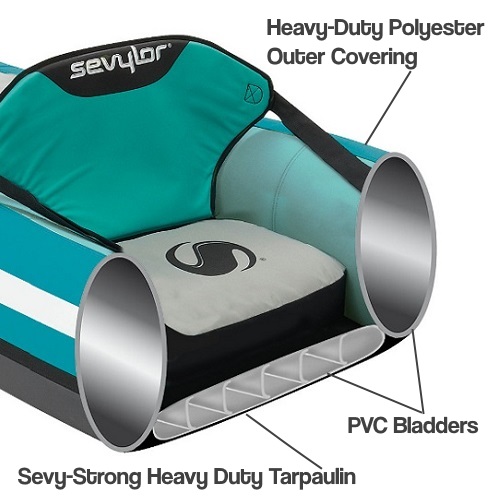 Note: Image may not show the Sevylor Alameda model.
Replacement Bladders for the Sevylor Alameda
Replacement side and floor bladders and inner tube for the Sevylor Alameda inflatable kayak.
Delivery
We offer a delivery service for the Sevylor Alameda throughout the UK & Ireland to home and work addresses.
Where possible orders are sent out via a courier using an overnight delivery service, orders are normally dispatched within 24 hours. The delivery price will be shown in the shopping basket
Collection - Click & Collect
Buy a Sevylor Alameda online from our website and collect from one of our nationwide branches.
We will contact you to arrange collection upon receipt of you order.
Our Stores are:
Bournemouth Canoes

- Poole, BH16 5BW

Inflatable Kayaks UK / Brighton Canoes

- Newhaven, BN9 0DH

Cornwall Canoes

- St Columb Road, TR9 6PZ

Kayaks & Paddles

- Plymouth, PL21 9RL

Manchester Canoes

- Warrington, WA1 4RF

Norfolk Canoes

- Norwich, NR5 0JU

Southampton Canoes

- Totton, SO40 3SA