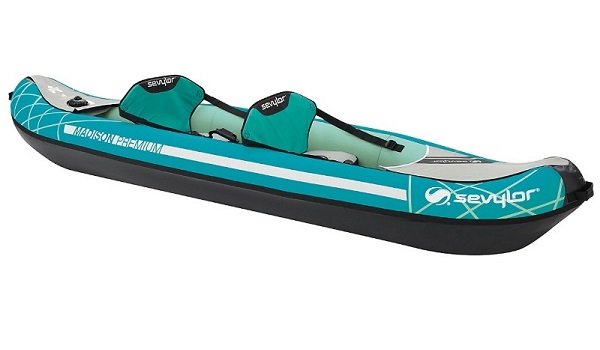 Sevylor Madison & Premium
The Sevylor Madison is the successor to the Colorado. It combines an extraordinary mix of manoeuvrability, stability and comfort. Can be configured as a solo or tandem. Premium version also available featuring Sevylor Easy Inflation System.
Sevylor Madison - Boat Only
£349.99 (RRP £429.99 - Saving £80.00)
Sevylor Madison Premium - Boat Only
£399.99 (RRP £479.99 - Saving £80.00)
Sevylor Madison Kit - Package Deal
£399.99 (RRP £489.99 - Saving £90.00)


Full Details
Features
Package Deals
Recommended Accessories
Sevylor Madison & Premium
The Sevylor Madison is one of the latest models to be added to the Sevylor line up and replaces as well as improves upon the design of the legendary Sevylor Colorado. If you are looking for a tandem kayak that has it all then look no further than the Sevylor Madison. It is stable, comfortable and easy to paddle and most importantly packs away neatly into a compact size carry bag for easy transportation and storage.
The Sevylor Madison is an extremely versatile inflatable kayak. Its seat can be configured in different positions which allow the Madison to be used a both a tandem and solo kayak. This is very easy to accomplish thanks to Sevylor's Seat-o-graphy system with clear markers in the kayak showing where to position the seats for best performance.

A small removable fin and welded-on directional strake ensure the Madison goes in a straight-line with ease. Its wide beam and flatter hull shape deliver unparalleled stability. Supportive foam backrests with inflatable seat cushions offer great comfort be it short or extended trips.

The Sevylor Madison will stand-up to the toughest adventures thanks to its hard wearing nylon outer shell and reinforced Sevy-Strong Tarpaulin coated hull. Its construction includes 3 separate inner tubes for the floor, left & right sides with one way boston valves. It is quick to inflate normally taking little more than 5 minutes to fully inflate using either manual foot or hand pumps. Alternatively a less energetic option is Sevylor's electric 12v pump.
Madison Premium Version
The Sevylor Madison is also available in a Premium version known. The Sevylor Madison Premium is an upgraded version of the standard Madison that features Sevylor's Easy Inflation System. This system allows the 3 independent inner tubes to be inflated through single valve interface. This allows for quicker inflation and ensures an even distribution of air & the kayak maintains its optimum shape.
If you are looking for an inflatable with extra room or space for a child you may like to consider the Sevylor Alameda.
| | | | | |
| --- | --- | --- | --- | --- |
| Length | Width | Weight | Capacity | Pack Size |
| 327cm | 93cm | 15.6kg | 200kg | 76 x 51 x 26cm |

Sevylor Paddle Grip is a mulit-functional carry handle and/or a paddle holder so you can relax hands free.

Sevy-Strong a heavy duty tarpaulin layer that reduces drag & wear as well as resisting water ingress.

A practical floor guide to help determine where the seats should be positoned for maximum comfort.

The Sevylor Ez Carry Bag is easy to re-pack & features a compression strap and paddle storage loops.

The Easy Inflation System allows the floor & 2 side chambers to be easily inflated through a single valve.
Sevylor Madison Kit - Package Deal
Special Offer Price:
£399.99 (RRP £489.99 - Saving £90.00)
Kit / Package Includes:
Sevylor Madison
Carry Bag
Easy Inflation Pressure Gauge
Tracking Fin
2 x Sevylor 4 Piece Kayak Paddle
5ltr Foot Pump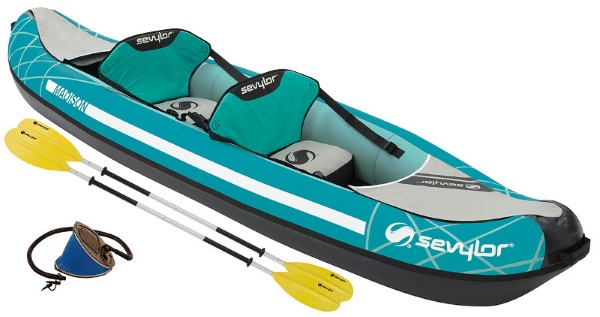 Recommended Accessories
Riot Distance Split Paddle 220cm
The Riot Distance 2 piece split paddle is ideal for use with inflatables as it breakdown into 4 pieces to pack away as small as possible. Constructed from a strong alloy shaft with sculptured polypropylene blades. Length: 220cm.
Bravo Combi Paddle - 1 x Kayak or 2 x Canoe Paddle
When paddling solo use it as a double blade kayak paddle. When paddling tandem take the paddle apart, add on the handles & you have 2 canoe paddles. A versatile paddle that gives you the best of both worlds.

Foot Pump - 5 Litre
The Bravo Foot Pump is compact & lightweight and features the option to inflate or deflate. Inflates 5 Litres in volume per pump up to a maximum pressure of 4.3 psi.
Hand Stirrup Pump - Dual Action
The Dual Action Hand Stirrup Pump is a very efficient hand pump ideal for inflating inflatable kayaks. This is dual action pump meaning it inflates on the up and down stroke. Dimensions: 45 x 23 x 11 cm.
Palm Quest PFD - Adult & Junior
The Palm Quest buoyancy aids is a functional, unrestrictive and comfortable entry level buoyancy aid. Easy to fuit thanks to it front entry zip and adjustable shoulders and side. Both adult and kid sizes available.
Delivery
We offer a delivery service for the Sevylor Madison & Premium to home and work addresses throughout England, Wales, Scotland, Northern Ireland & Ireland.
Most Inflatable Canoes & Kayaks are supplied within 24-48 hours.
Collection - Click & Collect
Buy a Sevylor Madison & Premium online from our website and collect from our store in Newhaven, East Sussex or from any branch within the Canoe Shops Group. There is no cost associated with this.
Our other stores are:
Brighton Canoes - Newhaven, BN9 0DH
Bournemouth Canoes - Poole, BH16 5BW
Cornwall Canoes - St Colub Road, TR9 6PZ
Kayaks & Paddles - Plymouth, PL21 9RL
Manchester Canoes - Warrington, WA1 4RF
Norfolk Canoes - Norwich, NR5 0JU
Southampton Canoes - Southampton, SO40 3SA
We will contact you to arrange collection upon receipt of you order.
If you need any further help or advice about the Sevylor Madison & Premium please get in touch by email, phone or visit our shop